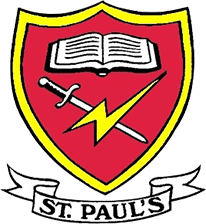 Our last school visit in the run-up to the Easter break was to a new school to us, St Paul's RC Primary, on the Newbury-Reading border. Kath and I were made more than welcome and soon found ourselves in front of a VERY enthusiastic KS2 audience. As this was our first visit, I talked about how I became an author under the most unusual of circumstances and this led nicely into a full-blown Mokee Joe presentation. The children and staff seemed captivated  and interacted perfectly during the performance.
The morning passed only too quickly and we were soon sipping coffee in nearby Pangbourne musing over how much we had enjoyed the experience. We returned to St Paul's the next day to carry out a book-signing and that went equally well. So many children waiting to get their heads into our books…Great!
The Headteacher, Mrs Oster, was proud to point out to us that St Paul's came out top in the West Berkshire schools re SATS results…and Miss Todd was keen to share with us how important literacy is regarded at the school. Neither of these statements surprised us  – it proved such a good school to finish off our hectic schedule of author visits stretching way back to Christmas.
A BIG thank you to all at St Paul's from us both. We hope you really enjoy the books and hope to see you again soon.
PJM